SST Anomalies and Heat Waves. Are They Not All Just Heat Displacements? (by Diego Fdez-Sevilla, PhD)
"Heat waves" are Increases of temperature over a mean value. They usually are identified by the impact they have over living systems and therefore, are mostly linked with events happening over land. The increase of temperature is produced by a displacement of heat in location being carried by a mass of air. This displacement of heat is recognised as anomalous when  moves into a location where induces extreme variation from its average climatic conditions.
Sea Surface Temperature anomalies, like the so called El Niño event, are also Increases of temperature over a mean value. The increase of temperature is produced by a displacement of heat in location being carried by a mass of water. This displacement of heat is recognised as anomalous when  moves into a location where induces extreme variation from its average climatic conditions.
Anomalous and extreme increases of temperature have happen "simultaneously" through 2015 at the Pacific SST and over the West side of North America, Alaska, India and the South of Europe.
So if we call all those events by what they are instead of their acronyms, we can see a common pattern: the distribution of heat at Sea Surface and at Tropospheric level Over Land have suffered variations pointing to anomalous displacements of heat in location and seasonal timing.
That means that not only the state of the atmospheric and oceanic currents have allowed the intrusion of warmer than normal masses of "heat" but also, that the conditions at the location were favourable to also retain the heat.
Based on that point of view I believe that there is a question which has been overlooked. Not only what makes the conditions to induce displacements of heat in location and time, but moreover, which are the conditions which allow those displacements of heat to be transferred and settle in location?
As the First Law of Thermodynamics implies, matter and energy can not be created or destroyed (only converted between the two). Likewise, heat -the movement of energy from a hotter location to a cooler location- is never eliminated, but only moved elsewhere.
And therefore, we have to think on where is the heat being transferred coming from?, and which are the thermal conductivity characteristics of the medium carrying and retaining the heat?
Climate as a cooling system.
There are three primary modes of heat transfer.
Conduction – the transfer of heat through matter with no net displacement of the matter.
Convection – the circulatory motion of a gas or liquid caused by the variation of its density and the action of gravity and Coriolis effect (Earth rotation).
Radiation – the process of transferring heat by emitting electromagnetic energy in the form of waves or particles.
Thermal Conductivity is the amount of heat a particular substance can carry through it in unit time. And, Specific Heat Capacity is the amount of heat a particular substance can hold.
The transference of heat requires a medium. In out space the almost null concentration of molecules makes impossible the transference of heat so the temperature is bellow freezing, even under the constant exposure to radiation of electromagnetic energy from the Sun.
In climatic analyses, the location of heat quantities varies as the circulation based on Thermal Conductivity and Specific Heat Capacity in our Atmosphere and Oceans changes.
The amount of energy reaching our environment relies on our Sun. However, the Thermal Conductivity and Specific Heat Capacity in our Atmosphere and Oceans is dependent on their composition. Land cover characteristics (like the urban heat island effect, forests being substituted by crop activities and inland movement of surface water being depleted) altogether with Greenhouse gasses and aerosols composition, affect the thermal properties and behaviour of our atmosphere, as much as of our Oceans due to changes in Salinity and Acidification.
Common sense as a scientific reference.
Same as Rossby waves in the Polar Jet Stream indicates instability in the thermal barriers driving atmospheric circulation, it would be seen as logical that variations in SST (e.g. ENSO) are the result of processes of instability in the thermal conductivity of the Meridional Overturning Circulation (MOC) introducing inconsistencies in the Thermohaline circulation.
It seems that science is facing a challenge in just identifying which process leads the chain reaction and where it does happen. Is it at the atmosphere or in the Ocean, inland due to volcanic activity or outside the planet due to Solar Activity, Equatorial or at the Poles?
The specific heat capacities of water show to make it one of the best substances for holding and transferring heat. So we can consider that any energy entering the Planetary system will mostly be carried by this substance. Now, where is this energy being more actively integrated in climatic processes, in liquid or gas form, at the Oceans or in the Atmosphere?
My interpretation of the behaviour of the Ecosystem as a whole is that the first and fastest medium reacting to the energy entering the system is the atmosphere. And therefore the atmosphere leads, and the events found in the other mediums follow.
Accordingly, the relevant mechanisms to be understood would be those atmospheric mechanisms which trigger changes in the dynamics of the thermodynamic atmosphere. And, from there, the interconnections which trigger the following events, like the Westerlies at the Equatorial Pacific inducing the increase in temperature so called ENSO.
Thresholds or Anomalies. Are we chasing ghosts?
Inconsistencies between standardised indexes and atmospheric circulation have been happening already for some time.
The consideration of westerlies pushing warm waters from the West to the East Pacific to explain the ENSO just describes a process, it does not justify its presence and "purpose". Applying wind direction to explain ENSO should directly focus the attention over predicting its origin based on identifying an increase in the strength of those Westerlies. Accordingly, the relevant mechanisms to be understood would be those atmospheric mechanisms which trigger such changes in the dynamics of the thermodynamic atmosphere at the Equatorial Pacific. However, inconsistencies between standardised indexes and atmospheric circulation have been happening already for some time:
The concept of a broken Polar Vortex as the explanation for a wobbly jet Stream bringing Polar weather to subtropical latitudes was much overused to explain the Winter 2013/14. Very similar polar weather intrusions happened in the Winter 2014/15 and yet, without a persistent Polar Vortex broken.
The configuration of the positive NAO in 2014/15 did not quite match with the patterns associated to this phase.
Trio of tropical depressions formed in the Pacific equator, at similar location, in a year without a categorised positive ENSO in 2014 and in a year with a categorised strong positive ENSO in 2015.

A strong positive ENSO is associated  with low cyclonic activity over the Western Equatorial Pacific and even thought, the present conditions of SST have pointed to a strong El Niño, there is no decrease in the activity being seeing at the Western Pacific. Furthermore, a positive ENSO is also associated with a calm period in the Caribbean sea which has been interrupted by the recently formation of the tropical cyclone Joaquin.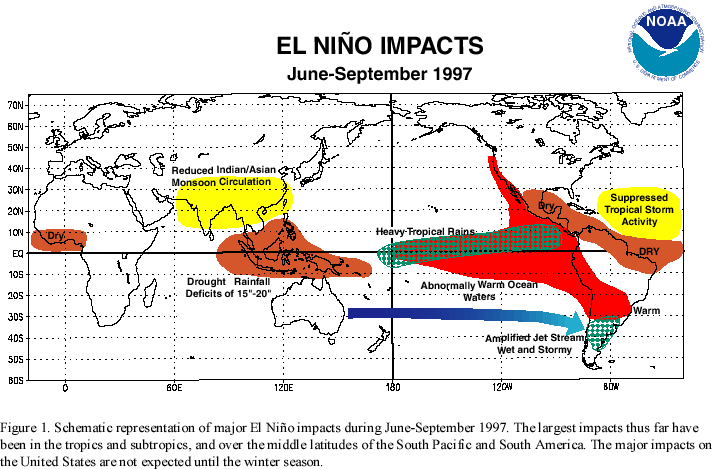 Settled knowledge.
When we study the behaviour of our environment there is a common agreement over the idea of that it is in constant change. That idea implies to assume that the environment is sensitive to pressures (internal and external) triggering those changes. Furthermore, the combination of both ideas, a sensitive environment in constant change, can only be understood considering that the stability of any pattern is only constant for as long as the conditions under which it happens keep constant.
So, for how long can we expect and project future patterns of behaviour in any of the actual sources of variation identified when our environment is under constant transformation?
Should we expect that Solar variations are going to have the same effect over the climate as thousand years ago? What is it so similar between both situations? (more here)
Should we consider the NAO, the ENSO, the MJO, settled patterns behaving as constants over time from which we can make projections or just mere features as part of a transition through time? (more here) Has anybody considered that the reason why there are discrepancies between years with the same phase signal might point to this idea?
Some situations in our environment (anomalies and oscillations) have been "shaped" with the effort of "standardising"  patterns in order to predict outcomes. From Solar activity to Atmospheric and Oceanic dynamics, those standardizations can serve a purpose in a particular period of time, but they are not settled and should not be expected to keep constant over time under the pressure from constant transformations over those same factors which are involved in driving their performance, such as atmospheric, land and ocean composition and structure.
What if the NAO as it was defined by Barnston and Livezey 1987, was just a position in the atmospheric circulation as part of a transition accommodating new pressures and its standardization does not longer apply (more discussion here)?
What if the ENSO is more dependant than dominant over the result of alterations in some other parts of the circulation outside the Pacific, either atmospheric or Oceanic? (more discussion here)
Acronyms have the risk of overtaking critical thinking and become "profiles" in a social media platform of scientists, with a huge number of members in their network, whom have stop from asking themselves what those acronyms stand for and what they really mean.
Atacama, case scenario.
On April 2015 Chile suffered from devastating floods occurred due to heavy rainfall over the Atacama dessert. In all forms of media it has been reported the severity of the increase in SST over the Pacific and therefore, any climatological event happening seems to be related to it. But, should we get dragged by our scientific dogmas so easily?
My interpretation, the heavy rains came after several days of high temperatures and a drought that stoked raging wildfires in Chile's south-central regions. The fires burned nearly 93,000 hectares in the 2014-2015 season, far above the annual average of 59,300 hectares over the previous five years. Furthermore, the Villarica volcano in the country's south, erupted on 3 March, forcing evacuations and disrupting air traffic. Atmospheric currents were dominated Northward due to a combination of a H east Pacific and a L in the low West Atlantic, resulting in an explosive combination of heat wave, humidity and aerosols.
About its relationship with abnormal temperatures in the Pacific, I doubt it. The SST in the west Pacific, compared with previous years, do not show nothing especial in magnitude or by timing in relation with lags responses between Temp anomalies and weather events.
Thanks to the Amazonian forest, the amount of water vapour travelling over the South American continent has shown to be sufficiently strong to even interfere with the jet stream on its own, without the help from the ENSO. More here
Solar activity

Even considering that the Solar influence over our planet defines the expression of nature as we know it, and keeps fuelling the thermodynamic behaviour of our atmosphere, the activity being shown in the present cycle is one of the lowest. And even for the present cycle it is moving towards a lower activity phase.
From heat waves to water vapour waves
Heat has moved like waves reaching northern latitudes over Europe in an unprecedented manner through this summer
At this part of the year, 15th Oct 2015, we are in the transition from summer to winter, and new types of waves are happening in our atmosphere. This time, these are the waves which carry water vapour into northern latitudes.
This last image shows the current of warm and wet air moving over the Atlantic Ocean into the North Polar Latitudes. (15th Oct 2015. Meteosat Microphysics. Eumetsat)
Closing remarks
Based on previous observations (choose category and look at the posts related or more on thermal conductivity here, applying perspective here  and here, climatic drift here, keeping an eye over Atlantic developments here, Pacific  developments here,  Arctic developments here and here, and Solar activity here) and present conditions, I believe that the driver behind all perturbations and oscillations identified in our planet lies on destabilizing the Arctic circulation from enhancing the capacity of the atmosphere to contain water vapour due to increasing conc of GHGs and aerosols.
And the repercussions follow a pattern coherent with those discussed in previous posts such as A roller coaster of temperatures in South Europe and   "A climate between waters".
Feedback and constructive comments are welcomed.
—- xxx —-
(This post is part of a more complex piece of independent research. I don´t have founding, political agenda or publishing revenues from visits. Any scientist working in disciplines related with the topics that I treat in my blog knows how to judge the contribution that my work could potentially add to the state of knowledge. Since I am in transition looking for a position in research, if you are one of those scientists, by just acknowledging any value you might see from my contribution, would not only make justice to my effort as independent researcher, but ultimately, it will help me to enhance my chances to find a position with resources to further develop my work.
I believe that the hypothesis that I have presented in previous posts in this blog (here,here and here) could help to understand present and possible future scenarios in atmospheric circulation. However, this is an assessment based on observation which needs to be validated throughout open discussion and data gathering. So please feel free to incorporate your thoughts and comments in a constructive manner.
If you feel like sharing this post I would appreciate to have a reference about the place or platform, by private or public message, in order for me to have the opportunity to join the debate and be aware of the repercussion which might generate d.fdezsevilla(at)gmail.com)
For anybody interested in the posts related with this discussion here I leave you those more relevant in chronological order (there are comments bellow some of them. Please check them out):
New theory proposal to assess possible changes in Atmospheric Circulation (by Diego Fdez-Sevilla) Posted on October 21, 2014. http://wp.me/p403AM-k3
Why there is no need for the Polar Vortex to break in order to have a wobbling Jet Stream and polar weather? (by Diego Fdez-Sevilla) Posted on November 14, 2014. http://wp.me/p403AM-mt
Gathering data to make visible the invisible (by Diego Fdez-Sevilla) Posted on December 22, 2014. http://wp.me/p403AM-pN
State of the Polar Vortex. Broken? From 29 Nov 2014 to 5th Jan 2015 (by Diego Fdez-Sevilla). Posted on November 29, 2014. http://wp.me/p403AM-o7
Probability in the atmospheric circulation dictating the Weather (by Diego Fdez-Sevilla) Posted on January 15, 2015. http://wp.me/p403AM-rm
Meteorological Outlook Feb 2015 (by Diego Fdez-Sevilla) Posted on February 7, 2015. http://wp.me/p403AM-sU
Revisiting the theory of "Facing a decrease in the differential gradients of energy in atmospheric circulation" by Diego Fdez-Sevilla. Posted on February 10, 2015. http://wp.me/p403AM-to
Matching Features Between Land Surface and Atmospheric Circulation (by Diego Fdez-Sevilla)

April 23, 2015

Drops of Weather. (by Diego Fdez-Sevilla)

March 7, 2015

Steering climate´s course (by Diego Fdez-Sevilla)

March 27, 2015

Matching Features Between Land Surface and Atmospheric Circulation (by Diego Fdez-Sevilla)

April 23, 2015